You are a multidisciplinary artist, working with various media, including photography, sculpture, installation, performance, and painting. Please tell me how your artistic path has developed?

I have an educational background in painting and sculpture. So, in the beginning I wasn't quite familiar with other forms of art, like photography and performance. However, at some point I got very curious to find out, how they could affect my art concepts, how they could be translated into my ideas. As a result, I almost dropped painting right after University, and was mostly working on photography and performance installations. I have returned to painting only recently when the global pandemic broke out. It is exciting to see, how the narrative and overall concept transcends through the medium, and it's truly fulfilling to observe this process, to see it developing in my paintings.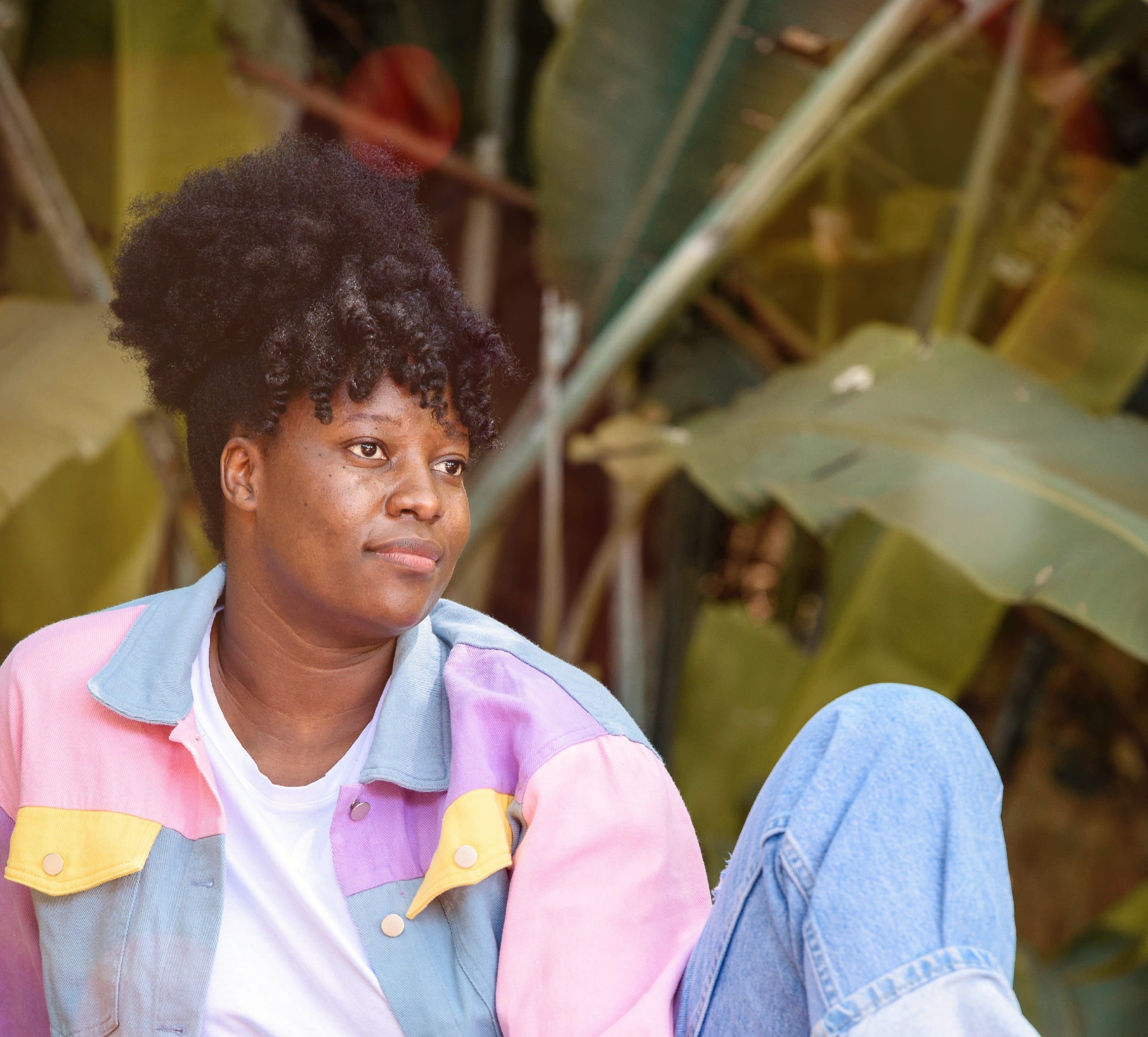 © Stacey Gillian Abe. Image: Timothy Gambu
How do you select your motives for your paintings? Where do you find inspiration and what influences your painting practice?
My work is autobiographical; this means my inspirations stem from my memories and personal experiences. I am my own personal muse, so to say, an inspiration source for my art. At the same time the women in my family influence a great part of my concepts as well. These are coupled with the key points of societal discussion that I try to highlight in my work, e.g. topics related to gender, class and race.
Speaking about the motives, could you please tell us more about the purple skin that you often depict? For instance, your works Day Dream and Dear Letaru represent classical female portraits apart from the fact that the women have purple skin. What does it symbolize?

Indigo and its rich history have a great deal to do with it. We are aware of the dark history tethered to the black body which contributed to solidifying stereotypes around being black, class and our place in the world. I would like to re-write the narratives around the black body with the help of that story. Indigo as a skin tone is an alternative form of looking at the black body. It is not a packaged commodity or a stepping stone but something precious, priceless.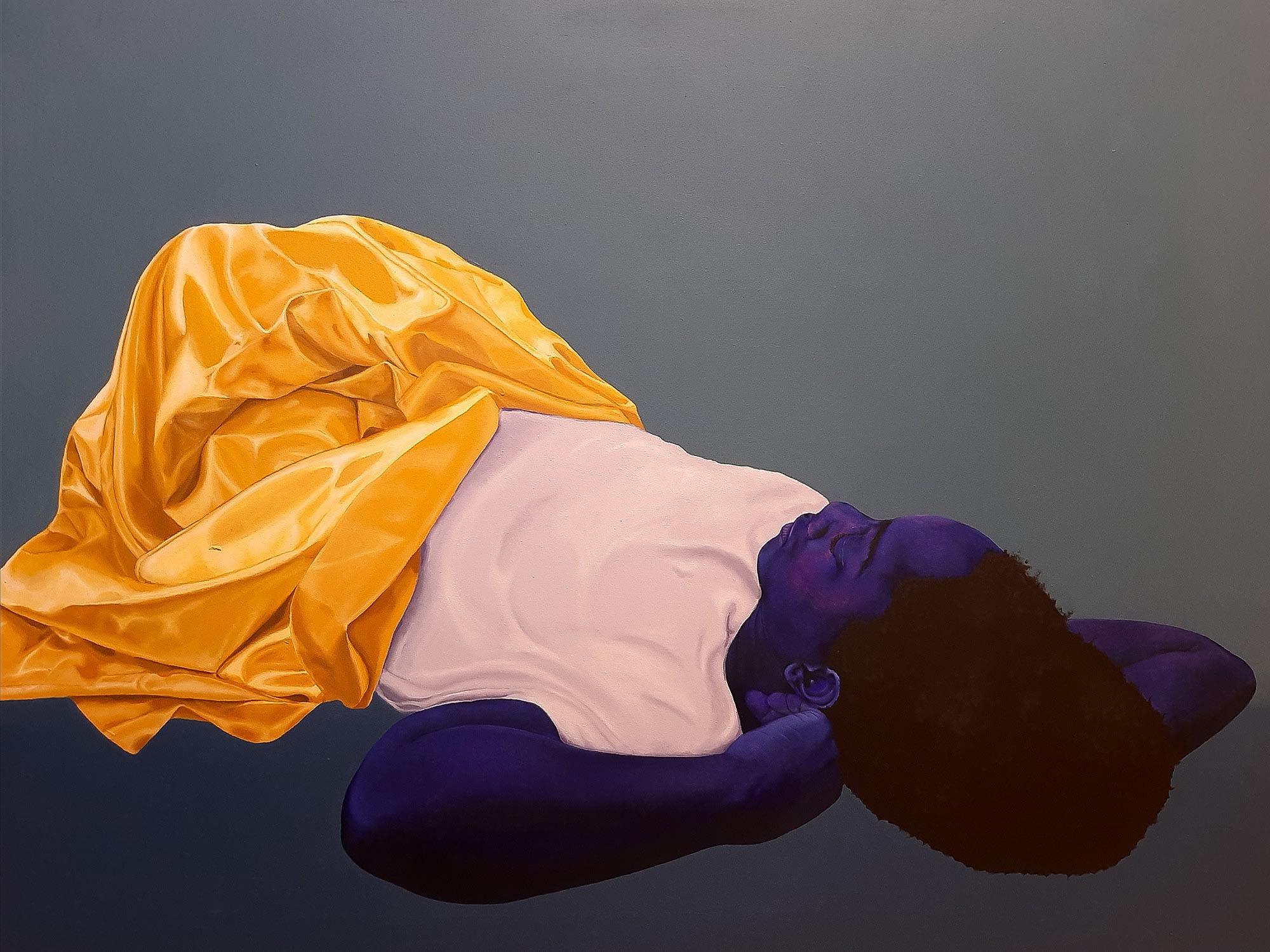 Stacey Gillian Abe, Day Dream, 2020, Oil on canvas, 96 × 124cm 37 3/4 × 48 7/8in
One of the topics you deal with in your work, is spirituality. I have read, you believe, that there is no distinction between the spiritual and material world. How do these two dimensions co-exist in your works?

I believe that a human race understanding begins with the "self", and then comes the understanding of others. This ultimate understanding and acceptance of each other stems from realizing, that apart from some other, maybe materialistic differences, we all are identical spiritual beings. This idea is highlighted in the surreal nature of my art, e.g. in Seat of Honour (2017). The concept materializes through an interaction with my spiritual and subconscious "self", in this case the space in the work is not defined.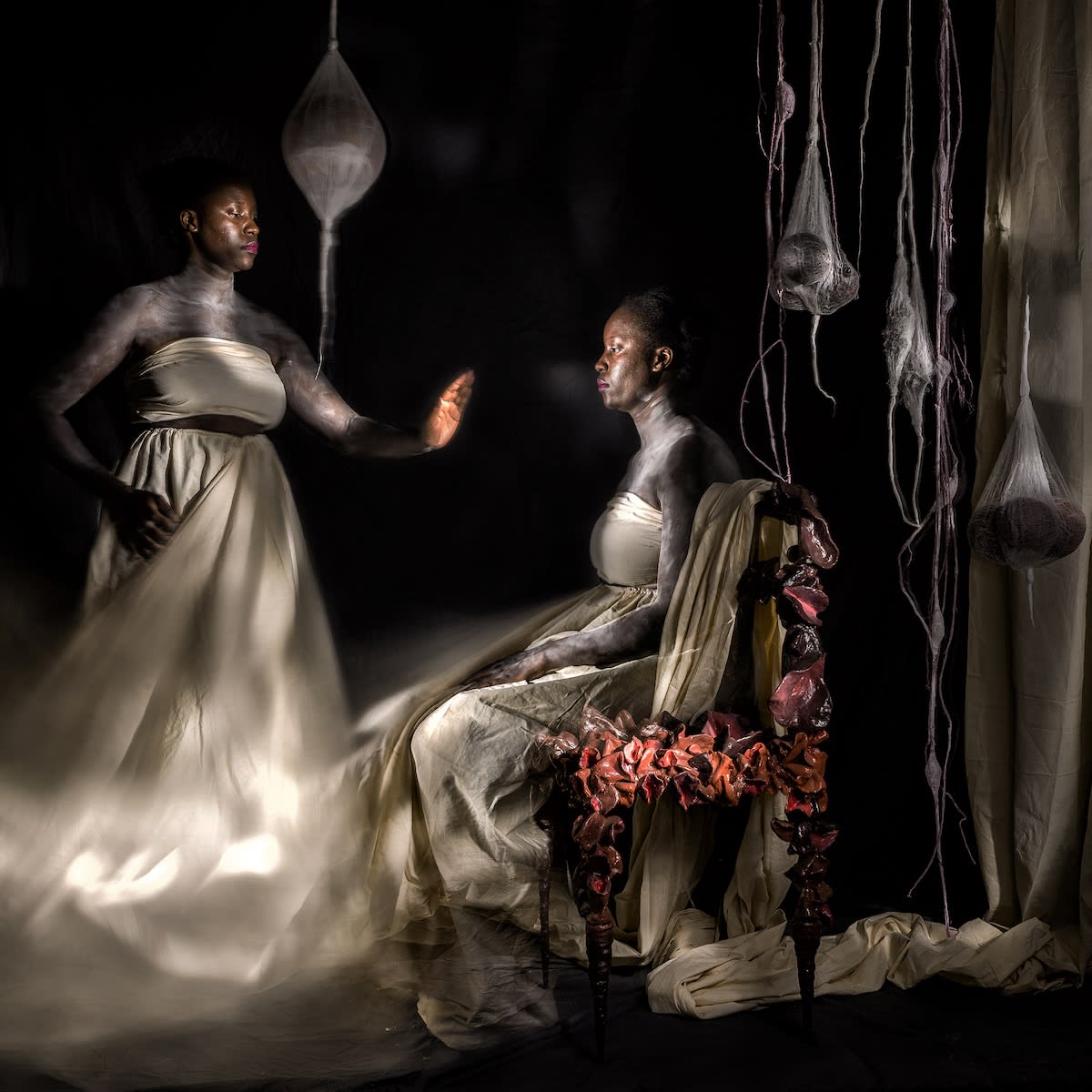 Stacey Gillian Abe, Seat of honor #4, 2017, Photography, 50 × 50 cm 19 3/4 × 19 3/4, Edition 3/5
You often use a surrealist visual language, while your works address real challenges referring to such subjects as identity, gender, etc. What drives this surreal approach? How does real intertwine with the surreal?
Gender and identity are core elements in my work because these are one of the most relevant and relatable subjects for the black community. Living in the 21st century has its advantages and disadvantages. The downside is, we are exposed to so much information and so many things, that nothing is shocking anymore, nothing can drive our attention. So, what is a better way to deliver my message than doing something completely different? Besides, going back to the idea of spiritual beings assuming humanity, my work aims to materialize this concept in a way.
© Stacey Gillian Abe Studio
Could you please tell us a bit about your upcoming projects? What are you currently working on?
At the moment I am developing the paintings of my Self-Portraits more and more. I am simultaneously participating in a number of projects. In a few months I am having a Solo exhibition at Unit London Art Gallery.
(Editor's note: Unit London, Mayfair, 3 Hanover Square, Mayfair, W1S 1HD, London, UK).
Interview conducted by Valentina Plotnikova